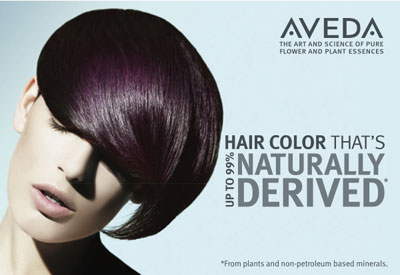 It's the hair colour you've been waiting for! Upto 99% naturally derived, Aveda Full Spectrum Hair Colour is PPD free, contains no Petrol Chemicals, Oils, or man-made minerals.
Instead, it relies on a signature blend of sunflower, castor and jojoba oils that help protect the hair and infuse it with amazing shine. It's patented green tea extract delivers longer lasting colour and a broader spectrum of possibilities so that your hair colour can be truly personalised to your skintone and lifestyle.
Like all Aveda products, Full Spectrum Hair Colour is 100% cruelty free - tested on people; not animals, and is produced using 100% wind power. It really is groundbreaking in so many ways.
What's in Aveda Full Spectrum Hair Colour?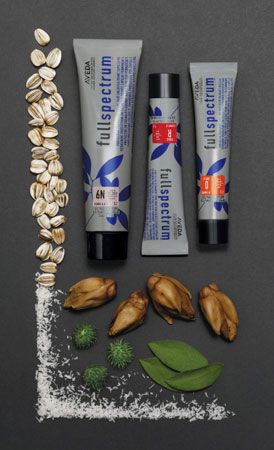 Castor Beans - Organic castor oil and organic sunflower, jojoba, cocunut and babassu oils condition hair and add shine
Corn - Corn derived surfacant make it easy to rinse the dye from the hair
Green Tea - Patented green tea extract creates a broader spectrum of colour
Red Tea Rooibos - Patented red tea's powerful anti-oxidant properties help protect your hair colour formula
Can it perform with the same results that synthetic (artificial) hair dyes do?
Yes, and more! Aveda Full Spectrum hair colour may be upto 99% naturally derived, but that doesn't mean it delivers any less than 100% results.
Blondes sparkle with a clean non-brassy finish, grey hair is blended in a natural "who knew?" manner and reds stay vibrant for longer.
Cosmopolitan magazine named it their "Beauty treatment of the week".
How do I book a hair colour appointment using Aveda hair colour?
We are the only salon in Liverpool able to offer the Aveda Full Spectrum Hair Colouring service. You are welcome to book online or call the salon to make an appointment. Most of our regular hair colour services can be carried out using Aveda Full Spectrum hair colour, and you can request this when booking.
You will still need to attend the salon for a quick skin test 48 hours before your appointment.
Aveda Hair Colour available in salon now. Book your appointment online today!